President Donald Trump has repeatedly told the American people his trade war pitch: "Tariffs are the greatest!"
Except they are not — and a new report from the Associated Press (AP) indicates tariffs are stirring uncertainty at many US points of entry for imports.
Across the nation, at least 10 percent of imports at many ports could vanish if President Trump's trade proposals take full effect, according to an exclusive investigation of government data by the AP.
Port officials said it is becoming a growing concern that tariffs could trigger a domestic slowdown in shipping that would ripple through the transportation industry.
Since March, President Trump unleashed new duties of up to 25 percent on $85 billion worth of aluminum, steel, and other various Chinese manufacturing related products.
"Tariffs are working big time. Every country on earth wants to take wealth out of the U.S., always to our detriment. I say, as they come, Tax them. If they don't want to be taxed, let them make or build the product in the U.S. In either event, it means jobs and great wealth," Trump tweeted in early August.
While President Trump has claimed tariffs will protect American workers and spark an economic boom, his administration is also preparing an alarming set of tariffs of up to 25 percent on an additional $200 billion on Chinese imports — many of which are consumer based products.
US manufacturers are now starting to feel the pinch, as tariffs are causing havoc on global supply chains. On Friday, Ford stated that it would abandon plans to import a crossover version of its Focus compact car from China to the US because of tariffs that took effect in July. Ford has already warned that it will cut most of its US car business as it shifts toward trucks and SUVs.
In New Orleans, Port NOLA generates $100 million in revenue annually through four lines of business — cargo, rail, industrial real estate and cruises for the State of Louisiana. More than 90 million short tons of cargo passes through the port per year, where officials have cautioned that a tariff-related drop in shipments is coming.
Robert Landry, the port's chief commercial officer, said steel imports had declined more than 25 percent from a year ago.
He said port officials are searching for other commodities to import, but right now, those expectations are low. "In our business, steel is the ideal commodity," Landry said. "It's big, it's heavy, we charge by the ton so it pays well. You never find anything that pays as well as steel does."
Adam Schlicht, the Port of Milwaukee director, said the port had been structured to import steel from the European Union and ship out agricultural products from the Midwest. He said steel imports had not halted yet becuase of multi-year contracts, but there has been "an almost immediate halt" in outbound shipments of corn because of retaliatory duties imposed by the EU on American agriculture products.
Millions of tons of corn, he said, "are just staying in silos. They are filled to the brim."
The AP notes that many other ports saw an influx of activity during the June/July timeframe, as US businesses pulled forward consumption from 3Q to get ahead of the tariffs. Some of these orders included manufacturing goods, retail items for back-to-school, and even Christmas products.
"Some of my retail customers are forward-shipping the best they can to offset proposed tariffs," says Peter Schneider, executive vice president of T.G.S. Transportation, a transportation firm in Fresno, California.
And now, the economic miracle of Trumponomics has been revealed: Second-quarter growth was induced by corporations accelerating purchases of soybeans, crude oil, and other items before new tariffs went into effect. In other words, the growth numbers were artificially inflated by shifts in consumption to avoid new taxes, as many analysts have pointed to weaker GDP prints into the Fall timeframe.
Port officials told the AP they continue to worry that the next round of tariffs, an additional $200 billion in Chinese imports (fish, foods, furniture, carpets, tires, rain jackets and hundreds of additional items), could trigger price shocks for Americans that would ultimately buy fewer goods, thus lead to a slump in shipping volumes at US ports.
The initial impacts would cause shockwaves at West Coast ports like Los Angeles and Long Beach.
Los Angeles Mayor Eric Garcetti, told the AP, the Port of Los Angeles could suffer a collapse in shipping volume of about 20 percent if the additional $200 billion in tariffs are imposed against Chinese goods.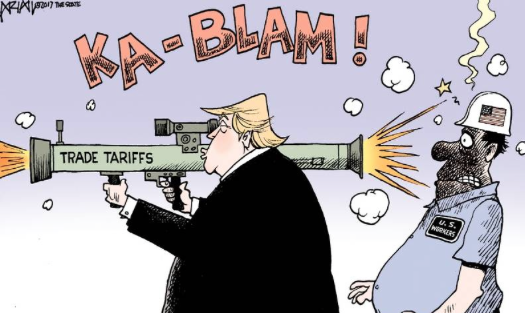 Jock O'Connell, an economist in California who analyzes global trade, does not believe a downturn would be so severe — that would parallel the global recession of 2008, but he said, "we will see a definite impact."
Here are some of the important findings from the AP report:
U.S. tariffs will cover goods that are imported at more than 250 seaports, airports and ground terminals in 48 states.
At 18 of 43 customs districts — including those representing ports around Los Angeles, San Francisco, New Orleans and Houston — at least 10 percent of their total import value could be covered by new tariffs if all Trump's proposals take effect.
Retaliatory duties by China and other countries cover $27 billion in U.S. exports.
Eugene Seroka, executive director of the Los Angeles port, worries that "if tariffs make it too expensive to import, there will be an impact on jobs."
Dwayne Boudreaux, an International Longshoremen's Association official in Louisiana, said his port workers are processing about 10 percent less steel from Japan because of the new tariffs.
"We don't think it's going to (get) worse," he said. But, he added, "who knows – that could change from the next press conference."
O'Connell said the impact of  tariffs causing a slowdown in shipping volumes could be the greatest on truck drivers and warehouse workers.
Weston LaBar, CEO of the Harbor Trucking Association in Long Beach, California, said many truck drivers who deliver freight containers from the dock to warehouses are independently contracted by trucking companies and do not get paid when shipping volumes decline. A slowdown could spur a mass exodus of drivers and other job losses.
"It's hard to retain drivers," he said. "If we don't have work for those drivers, we're worried they will leave for some other segment of the trucking business or go into another business, like construction."
Kurt Nagle, president of the American Association of Port Authorities, said less shipping means less revenue for the ports — something that could limit their ability to pay for expansion and improvement projects.
In a tit-for-tat response, China, the EU, Turkey, Canada, and Mexico imposed retaliatory duties on US farm goods — triggering the Trump administration to issue a $6 billion bailout for farmers.
In addition to the $200 billion in Chinese imports that could face US tariffs in the next several days, Trump said that if Beijing continues to retaliate, he may slap a tax on $450 billion of Chinese goods — that would equal nearly 90 percent of China's 2017 exports to the US.
Do not worry, the risk of collapsing shipping volumes at major US ports across the country is all part of the plan of "Making America Great Again."
Source: https://www.zerohedge.com/news/2018-09-04/us-ports-fear-tariffs-could-collapse-ship-traffic-and-reduce-jobs